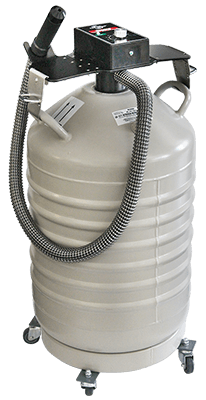 CRYOMED CRYOFAN
In some cases in cosmetology and sports medicine, specific area of the skin needs to be cooled without affecting its surrounding areas. The most suitable device for such purposes is the Cryofan (cryotherapy blower, cryo machine). Cryofan is a device for local cryotherapy using cooled gas stream, consisting mainly of liquid nitrogen vapour.
This equipment is quite compact in size and weight. It can be used conveniently in any health clinic or beauty salon. Cryofan may be used without any help of a medically qualified person as it is basically cosmetology equipment for body care. The equipment will be an excellent complement to any existing cryosauna, since it uses the similar type of Dewar vessels.
The main advantages of Cryomed Cryofan is it's portability, efficiency, multiply safety system with 24V power supply and ease of use. Time required for its preparation and attaining the working temperature is less than 4 minutes. Consumption of liquid nitrogen per procedure does not exceed 0.06 l/min., which is the lowest of such devices. It is also equally important that by using our Cryofan, your skin never comes in contact with liquid nitrogen.

POWER & TECH SPECS
Power Supply: 100-240 VAC, 50/60 Hz
Maximum Power Consumption: 0.28 kW
Protection: IP50

DIMENSIONS
Weight of cryofan unit: 3.7 kg
Pipe length: 1.4 m

TEMPERATURE & GAS
Precooling time (-100º С): Less than 4 min
Cooling Duration: 2 min
Gas stream temperature (max.): -120º С
Liquid nitrogen consumption for one session (10 min, -100º С): 0.6 l